China Ningbo Omen Industrial Co., Ltd. was established on 1996, We are a professional Manufacturer of Plastic Valves & Fittings Products, garden sprinkler, garden sprinklers, Thermal insulations, Seals, ELECTRIAL SULATION material, Plastic, Aluminum and Glass packaging. As a mutual group enterprise, our company owned 10 different productiondepartments, 120 professional technicians and 1500 employees at present. We can, therefore, guarantee to provide our customers with competitiveprices, prompt delivery and different products. Most of our products, garden sprinkler, garden sprinklers are widely distributed to more than 70 countries &. Areas.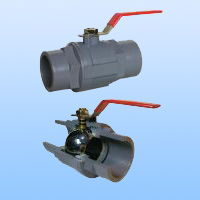 AC9133 Stainless Handle Ball Valve- Chrome Plastic Ball
Description :
SIZE: 1/2" to 3"
END TYPE:
SOCKET: CNS, JIS, BS, ANSI, DIN
COLOR: DARK GRAY
MATERIAL: PVC, CPVC
Features :
Ball Valve is applied to wide range of applications, including flow control, pressure control and shutoff. We are the best choice for your multiple industrial applications, waterworks, marine equipment, fishery and agricultural Plastic Valves & Fittings.

1. Every ball valve pressure tested and guaranteed not to leak.
2. Durable and long lasting.
3. Low cost and convenient operation.
4. Pressure rating 150 PSI.